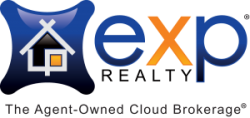 Why I Switched to eXp Realty
If you are an agent or broker…or you're thinking about a career in real estate, please ask me about eXp Realty. I wish I had known about eXp sooner! eXp Realty is "The Agent-Owned Cloud Brokerage™."
Before eXp, I was with a big brokerage and was convinced the brand was superior to others. Another realtor friend of mine told me she was thinking about switching to eXp. I had never heard of it, but because she is the type of person I enjoy working with, I told her I might look at down the road. My broker manager, at the time, had been supportive and I felt a sense of loyalty.
But the hard truth was, my bank account was empty. I paid high office and franchise fees and I was dissatisfied with the culture of my office. I attempted to inspire fresh energy among my peers, but I failed to cultivate the kind of competition and collaboration I felt I needed to push me. Everyone at my previous broker office was generous and incredibly helpful and supportive. They were salt-of-the-earth kind of people. There were many top agents doing an incredible amount of production on their own — but as islands.
I desired to feel a part of something exciting, something explosive, something exponential. And I saw that possibility with eXp.
But it wasn't until I used the eXp Brokerage Comparison Calculator that I knew, for sure, I had to make the switch to eXp. It showed me that after my first seven transactions in real estate, if I would have been with eXp instead of my former broker, I would have taken home $10,572 more home during my first 7 months in the business. I can't tell you how much having that extra money would have saved me and my family a lot of unnecessary stress.
As a new agent, who started her real estate career later in life, I didn't feel I had any more time to waste. I needed to invest in a company I could get excited about, working with colleagues who would inspire me to do all I'm capable of doing — and I wanted more opportunity to create wealth and enjoy the kind of lifestyle I desire.
As an eXp agent, I'm a part of a next-level, cutting-edge real estate company. I own my brand and I get a piece of the pie. I get to work with other like-minded agents — locally, continentally and globally — who are ambitious and entrepreneurial. Agent ownership and revenue sharing means true team work. The more we help each other, the better the company does and the better we all do! This is the kind of synergy and compensation I was looking for in my real estate business. I'm happy to have been introduced to eXp!
Register for this recorded webinar for an overview and then contact me at shesellsgr.com with questions! Let them know Sylvia Dana from Grand Rapids invited you! realtorsgetfree.com
Brokerage Comparison Calculator
Check out these video testimonials from agents around the country!
https://youtu.be/LTLMobcagVA
RSVP to our next eXp Lunch & Learn in West Michigan