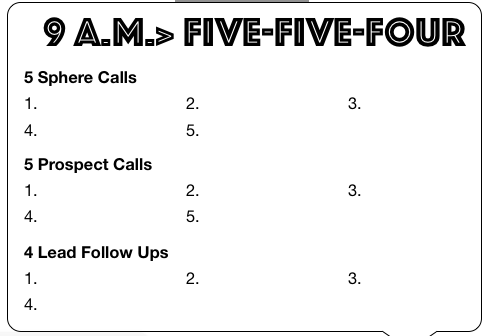 As a realtor, running her own business, it's easy to get distracted and lost in the minutiae of busyness. But I came across a simple daily business plan and it's changing everything for me!
I'm following Tom Ferry's Five to Thrive plan, with a goal to get it all done by 10 a.m. I've added a sixth task – exercise. So I'm calling this my Six for Success. It's helping me get focused and feel so accomplished early in the day!
I know tracking is important and so I'm committed to track my progress. I'm an artistic/visual person, so I made myself a "pretty" tracking sheet. Free Download
Here's the gist of the my plan –
6 a.m. Exercise: I do a yoga practice or cardio routine at home, so I don't have to take time driving to the gym.
7 a.m. 10/10s: I think about and write down 10 things I'm grateful for that day. And I also review 10 of my affirmations and big goals. I make myself write them down everyday, instead of just read them.
7:15 a.m. Goals: I write down three specific and measurable goals I will achieve that day, i.e. set appointment with Smith family to list their home at 6 p.m. tonight for a sale price of $245K at 6% commission….or, send out 50 holiday calendars to 50 families who I want to list with me next year, and set task for me to call each of these people next week.
7:30 a.m. Role Playing: This is script practice time. This is when I hone my skills, learning to more masterfully overcome objections. Because of the amazing collaborative environment of my brokerage — eXp Realty –, I have a role playing partner I talk to for 15 minutes every morning at 7:30 a.m.. Her name is Pam and she works out of Hilton Head. I also have an accountability partner I talk to at 11:45 a.m. every day for 15 minutes — Christine, who lives in Maryland, just outside D.C.
7:45 a.m. Market Knowledge: At this time, I hop into my MLS and check the hot sheet. I look for new listings, price changes, etc. I review how many total active listings there were for the last 30 days, pendings, solds and expireds. I learn the average price and days on the market, and watch for trends. I want to be the a market expert, so when people ask me about the market, I will have a great answer.
8 a.m. Get Ready: Yes, I have a time set for this. That way…by 9 a.m., I'm dressed, my hair is done and makeup is on. I'm ready for the day.
9 a.m. 5-5-4: This is my first hour of power for the day. If I get at least task done each day, all is well for me. I call 5 past clients or people in my sphere, 5 prospects and do at least 4 lead followups — every day at 9 a.m.
The following is my Six for Success tracking sheet available for you to download (-: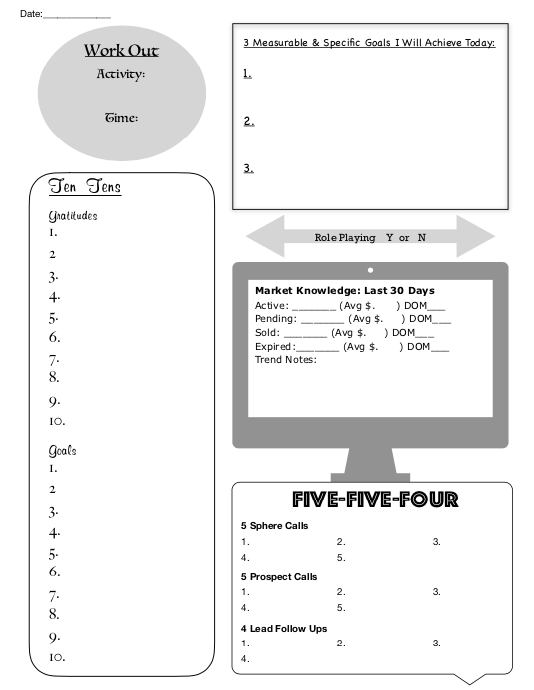 Here's the original post from Tom Ferry's blog