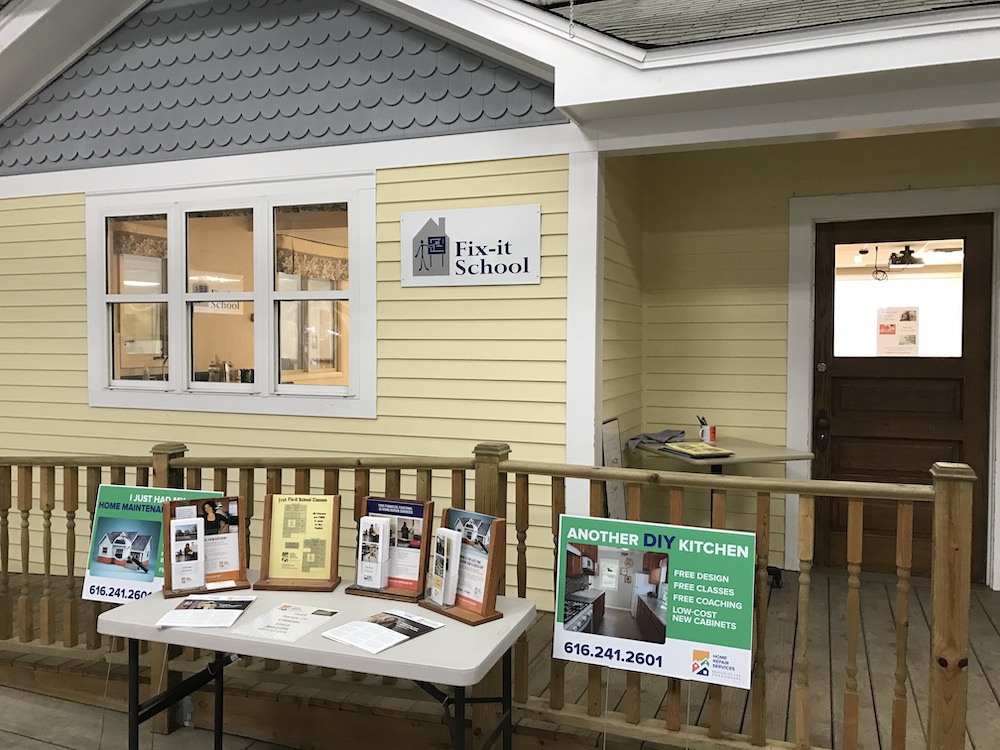 If you're a homeowner in Kent County, this is an organization you NEED to know about.
Home Repair Services is a non-profit organization focused on strengthening Kent County homeowners post purchase. It offers a repair team for vulnerable homeowners, as well as DIY services for all Kent County Homeowners.
For example, low income homeowners could get repair assistance to replace a furnace, a roof — or even a leaky faucet — for about 15 percent of the cost. Homeowners, and also renters, with mobility issues could get help adding a ramp for easier access to their home.
With HRS Remodeling Together program, any Kent County homeowner can remodel a kitchen for $1500-$2000!
No matter the income or ability, any Kent County homeowner can take advantage of the organization's Home Maintenance Check Up, Remodeling Together, or Financial Coaching programs.
Scroll down review all the programs provided by Home Repair Services for homeowners in Kent County
Like Home Repair Services on Facebook & view their events.
---
Speaking of remodeling… the following is a short, but cool video on three Kent County homeowners who remodeled their kitchens DIY style, with coaching and discounted materials with Home Repair Services. Any Kent County home owner qualifies, as long as they reside in the home!
Summary of Offerings by Home Repair Services in Kent County
Repair Team
Each working day, Home Repair Services sends professional service technicians into neighborhoods to handle minor or even the most urgent and critical repair problems facing qualifying lower-income homeowners. More info…
Money Matters Classes
These are free financial coaching classes to any Kent County resident who can attend. The next set of classes begin March 1, 2017. Class titles include: 21 Day Financial Challenge; Cash is King; Managing Credit; Insurance; Foreclosure. There are no income restrictions. More info…
Home Maintenance Check Up
This is amazing! I want to recommend all Kent County homeowners take advantage of this service! It's a free program in which the HRS Self-Help team will work with you to help plan for regular maintenance and home repairs. This routine maintenance and long-term planning will help save time and money, as well as maintain the value of your home. More info…
During the check-up you will-
Learn about how your house works
Learn to estimate repair costs and where to buy materials
Plan for which things to do now and which to postpone
Learn how to make simple repairs yourself
Receive a free Home Maintenance Tips booklet
Help to Avoid Foreclosure & Financial Coaching
Last year, HRS handled about 20 pre-foreclosure cases per month. They helped 112 people avoid foreclosure. Financial coaches assist in getting in contact with the mortgage company and working out a payment plans. There are no income restrictions. Flyer. HRS Financial coaches also spotted 20 households with 2015 tax exemptions and were able to help these homeowners get a refund for up to three years in over payment. More info…
Access Ramps & Modifications
Qualifying lower-income residents throughout Kent County with mobility impairments can request home access modifications from Home Repair Services. These include wheelchair ramps, bathroom grab bars, handrails and bathtub modifications. The copay for services is based on a sliding fee scale and ranges between 10% and 20% of a typical job's total cost. More info…
Fix it School
HRS offers DIY classes in plumbing, electrical, drywall, ceramic tile, flooring and cabinet installation. All classes take place at 10 a.m. every Saturday, are free and open to the public. Check out their events on Facebook. There are no eligibility requirements. Just walk in and have a seat! Participants who complete all six sessions of our "Rookie Renovators" series will receive a certificate of completion. More info…
Remodeling Together
Thinking about remodeling your kitchen? What about your bathroom? Remodeling Together offers resources you need to do it yourself successfully and at a lower cost. There are no income restrictions. The program includes free in-home design support, hands-on classes, lots of time with experienced remodeling coaches and a large selection of high quality kitchen cabinets, countertops and tile with passed on discounts. If you own or are buying your home and are willing to do some home remodeling work yourself, then Remodeling Together is a great option! (Scroll up to see video posted earlier in this blog post)  More info…