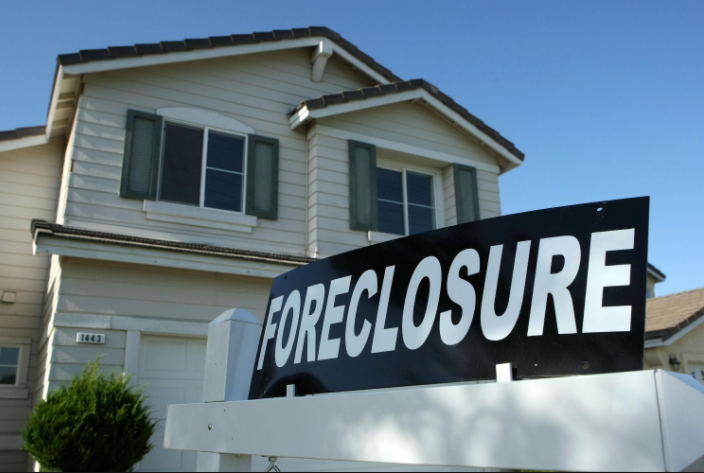 Perhaps you've decided, or circumstances have decided for you, that you're losing your home to foreclosure.
If foreclosure is imminent or you've recently gone through a foreclosure, the next step is to pick up the pieces and figure out what to do next.
The first stop is easy. Just breath. Take a big sigh of relief. Then, inhale the positive energy and exhale the negative. You more than likely have been dealing with a lot of stress over the last few months, and everything you've been dreading and fighting agains is upon you. But, it's not the end.
Yes, there is life after foreclosure. I don't mean you get to just walk away and forget it. Instead, this is a time of reflection, evaluation, rebuilding.
It might not be easy. In fact — if you're lucky — this might be the worse thing you'll ever have to go through. Yes, there are worse things than foreclosures. Still, the next few months will require "pull up your bootstraps" kind of effort to get yourself to the next step. I've compiled a list below of what you'll need to think about now, beginning with where to live…
If you know you're facing foreclosure, but a sheriff sale hasn't taken place on your home yet, you still might have options instead of foreclosure. Read my recent post "Facing Property Foreclosure & How to Fix It."
Your Obligations and Options After Foreclosure:
Live in the Home – If your state provides a redemption period after the sale, you often have the right to live in the home payment-free during this time period. For example, in Michigan, most homeowners get a six-month redemption period (up to a year in some cases) during which time they can live in the home.
Redeem the Home – Some states (Michigan included) permit a foreclosed homeowner to buy back the home within a certain period of time after the sale. This is called a redemption period. To redeem the home, you would have to pay the total purchase price, plus interest, and any allowable costs, to the purchaser who bought it at the foreclosure sale. (Learn more general information about the right of redemption.) In order to redeem, the former homeowner has to come up with another source of financing. However, getting a bank to lend you money after a foreclosure can be very difficult, even if you have a steady income, since your credit score will have taken a bit hit.
Sell the Home During Your Redemption Period – If you have equity in your home, it makes sense to list & sell the home with a realtor. Then, use the proceeds to pay off the person or entity that purchased the home at the auction, keep the difference and go on with your life. The sale of the home needs to happen before the end of the redemption period.
Move Out or Get Evicted – If you don't move out after the purchaser gets title to the home (typically either after the sale or after the redemption period), the new owner (often the foreclosing party, i.e. the bank) will start eviction proceedings to remove you from the property.
Rent – Most people become renters after experiencing a foreclosure – purchasing another house right away is usually not feasible. However, since a foreclosure appears on your credit report and most landlords check credit reports, finding a rental is not always a piece of cake either. The best thing to do is be honest and up-front with potential landlords. Explain why you were unable to keep up with your mortgage payments, and why paying your rent won't be a problem (e.g., your mortgage payment increased and the rent is much lower, you were out of work for six months but have a job now). If you have a positive payment history for other bills, such as a car loan or utilities, mention it. Offering a higher security deposit, if you have the cash, or a co-signer with a positive credit history can also help. (They don't have to live with you – just sign the lease, which makes them on the hook for rent payments if you don't pay. Of course, you'll need to find someone who is willing to be a co-signer.) Individual landlords are often more flexible and willing to overlook a foreclosure than a management company running a large apartment complex.
Understand the Deficiency Balance – The deficiency balance is the difference between the balance remaining on your mortgage and what the lender is able to get for the property. So if you owed $325,000 on your mortgage and the house sold for $200,000, you would have a deficiency balance of $125,000. In Michigan, the lender may obtain a deficiency judgment following a nonjudicial foreclosure, but the borrower can contest the amount of the deficiency if: the lender was the purchaser at the foreclosure sale, and the foreclosure sale price was substantially less than the fair market value of the property.
It is possible that you will be sued and your wages garnished. You can apply for a hardship exemption to stop garnishment, although this can be difficult to get. Filing for bankruptcy is another way to stop garnishment, but it will further damage your credit report. It is also possible that the lender may be willing to set up a payment plan or forgive the deficiency balance. In general, the IRS considers forgiven debt income, and requires you to pay taxes on it. However, under the Mortgage Forgiveness Debt Relief Act, you do not have to pay taxes on a forgiven deficiency balance if the home was your primary residence and the mortgage was used to build, purchase, or improve the home. (Refinanced mortgages are covered to the extent of the balance on the original mortgage at the time of the refinance.) Resource: Filing Bankruptcy Before or After Foreclosure
Consider Your Next Tax Bill – Uncle Sam always wants a cut, and it's no different when you go through a foreclosure. It comes as a shock to many people, but the federal government considers a forgiven debt as a form of income, which means you might have to pay income tax on a foreclosure.
Repair Your Credit – The first step on the road to recovery is to start repairing your credit. The best way to repair your credit is to continue using credit, but make sure you keep up to date with your payments. People often make the mistake of closing credit lines or cutting up credit cards when their scores take a major hit. But shunning credit altogether only leaves a large gap in your credit history, which is nearly as troubling to lenders as a bad credit history.
Learn to Budget and Save – Regardless of whether you are a millionaire or making minimum wage, the foundation of financial success is the same – budgeting. Budgeting means analyzing what you have coming in, then developing a reasonable and goal-oriented plan for what goes out. Essentially, a budget is a tool that can help you make the most of your money. One of the best things you can do to prepare for the unexpected is to save. With savings, you don't have to put car repairs or medical bills on your credit card or worry about how you will pay your rent or electric bill if you lose your job. Set yourself up for success by making saving an automatic process via direct deposit through work and periodic automatic transfer of funds from your checking account to your savings account.
Think About the Next Home You'll Own – Repairing your credit is only one part of the waiting game. You'll still need to find a lender willing to offer you a mortgage. Unfortunately, after a foreclosure, many lenders will give you the cold shoulder. However, there are some government-backed loans that can help speed up the process. For many people, an FHA loan will be the quickest path back to homeownership. After a foreclosure, the government body requires a three-year waiting period before you can qualify for another FHA-backed loan.
Related Links: