Deal Extended Through April 15!
Price to go up to $279 with a refreshed packages, starting April 15, 2021.
Be sure to take advantage of the lower price point by midnight, April 14, 2021.
---
Presto! kvCore Setup Package
$249
(reg $349)
To help you get the most out of your kvCore Set Up, save you money & save time, I've combined my presto package to include:
Done-for-you website set up

Custom edit of website set up to optimize for functionality
Template update with custom background photos & accent color
Update website title to & meta-title to reflect the areas you serve
Agent profile, bio & signature completion & enhancement
MLS ID, NRDS ID, contact info & social media links added
Up to 20 SEO service areas + key words added
Home valuation, open house widgets & property widgets added
Agent careers link installed
Custom Page Added linking to your Utility Connect website (or another link)
Two blog posts added – one for buyers & the other for sellers

Support tickets created for identified problems
Complete reference guide to your setup
Done-for-you lead-generating link creation

4 multi-property squeeze page links
3 single-property squeeze page links
3 market report squeeze page links
2 seller squeeze page links
1 call capture code

Done-for you drip campaign installation

Modified seller & buyer campaigns installed & activated
Custom Facebook Buyer campaign installed & activated
Custom Seller Share campaign installed & activated
Modified Sphere campaign installed & activated
Custom Agent Attraction campaign installed & activated
Open House & Closed Client campaigns installed & activated

On-Demand Video Training & LIVE Coaching

Free enrollment in The Sylvia System – Sylvia's kvCore school platform
Explanation of your kvCore set up & how to use it
Learn to leverage kvCore tools for lead generation
Introduction to managing leads using the Smart CRM
Demonstration of how to customize & trigger a campaign
Invitation to LIVE Q & A Zoom sessions with Sylvia (you can attend as many as you want)
Scroll down to learn more & see add-on services
---
Why kvCore?
Why Presto! kvCore Setup Service?
Check out my interview with Traci Lewis & Presto! customer Leslie Mosely about why you should be using kvCore and how my kvCore setup service will help your business!
---
Let Me Answer More Questions About the Setup
5 Answers to Your Questions About Your kvCore Set Up
When will my set up be complete?
How will I know when my set up is complete?
What is the set up template?
How will I learn how to use my set up?
How will I ask questions about my set up?
5 Things to Know As You're Getting Started with kvCore
About having more than one MLS
About working with teams
About your branding & domain
About setting up your social media
About the Smart Number
---
Add-on Options
Custom Widgets – $99
Four custom widgets added to the main page of kvCore website

Widget links to your content of choice, i.e intro video, custom page, area search/squeeze page, another website, etc.
Up to four widget photos of your choice
Enrollment in Sylvia's kvCore on-demand training.
See the example below.

---
Custom Newsletter Template – $99
Custom kvCore email newsletter template

Can be used for your periodic mass email campaigns
Includes up to 5 squeeze pages links to drive your database to your website
Includes custom email banner, agent signature & contact info
Short video training provided about how to use the email template & schedule mass email
Enrollment in Sylvia's on-demand training.
See the newsletter template example below.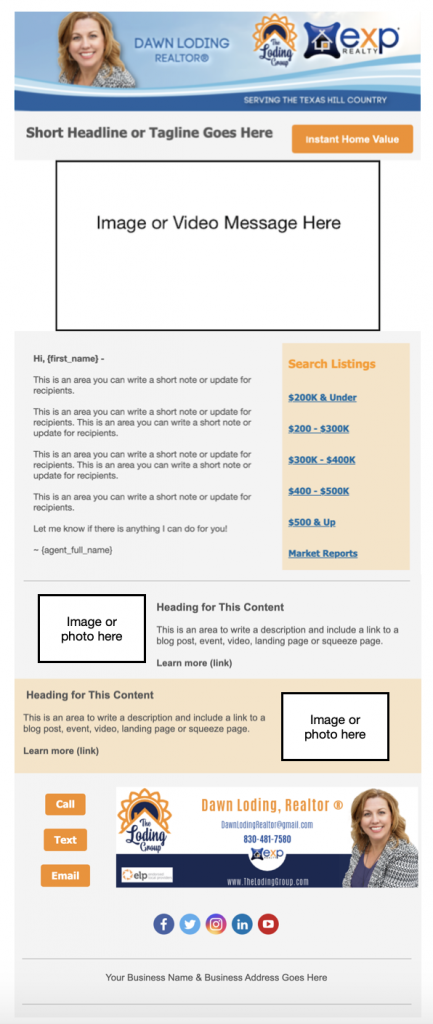 ---
Campaign Plus – $99
8 Custom Campaigns (in addition to the 9 you get with the basic Presto! kvCore Setup)

FSBO Text Campaign
Expired Seller Campaign
Home Buyer Credit Education Campaign
Engaging Seller Campaign (Alternate to Default Seller Campaign)
eXpress Offers Seller Campaign
Three additional seller campaigns geared towards seller leads from Facebook, Nextdoor & Google.
---
Additional MLS Templated Website – $99
If are in more than one MLS, you might have ordered an additional templated website with kvCore. If so, we will set up the additional kvCore website you have associated with your kvCore account.
---